Brian Elston Law is pleased to announce that its firm is located at the  Patton Parker House.  The historic house is located at 95 Charlotte Street near downtown Asheville, NC.
The Patton Parker House is an ideal fit for Brian Elston Law's mission and its clients.  As an experienced workers' compensation attorney and personal injury lawyer, Brian Elston understands that an injury at work or due to the negligence of another effects more than just the injured, but also their husband, wife, son, or daughter.  The firm appreciates that being injured can put families through a very stressful time, even jeopardizing their own home.  In addition, choosing an attorney to fight is more than just a business decision, but involves trusting someone with a once-in-a-lifetime legal matter.  The firm looks forward to continuing to fight to protect the rights of the injured and their families and welcomes them to the Patton Parker House.
The Patton Parker House is conveniently located off of Charlotte Street, which can be accessed off of I-240 in Asheville.  The House provides ample parking in the front and rear, and is handicap accessible.
The Patton Parker House, originally built in 1868, will showcase its rich history.  Listed on the National Register of Historic Places and part of the Chestnut Hill Historic District,  the house was built by Thomas W. Patton, a Civil War hero who rose to the rank of captain.
Patton served as Asheville mayor, Buncombe County commissioner and county tax collector. His efforts included trying to bring electricity to parts of the city and county, as well as helping local citizens in their day to day affairs. He returned to military service as a volunteer officer during the Spanish-American war.  Patton also hosted a group of civic-minded women in November 1894 in support of women's right to vote. The meeting launched the North Carolina Equal Suffrage Association and the campaign for voting rights for both sexes. His descendant, Mary Toole Parker, helped make Asheville's YWCA the first integrated chapter in the South.
The home was purchased by Attorney Jim Siemens in 2015, ensuring the survival of a city landmark for future generations.  "It turned out that Jim's proposal was the most sensitive to the integrity of the house. We think that a professional use is the best use to keep the historic fabric" according to Jack W.L. Thomson, executive director of the Preservation Society (Asheville Citizen Times, November 2015).
Brian Elston Law will be sharing the House with Siemens Family Law Group, an established firm devoted to family law, that handles all matters that rise from the dissolution of marriages and domestic partnerships.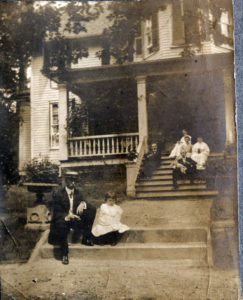 Circa 1901 Picture of Parker Patton House