Maximum Justice, Minimum Stress.
Brian Elston Law is a personal injury attorney in Asheville, NC and is dedicated to fighting for the people who need it most. Our team is ready to take on your case in a variety of matters from personal injury, to workers comp, wrongful death, employment law, civil litigation, and more.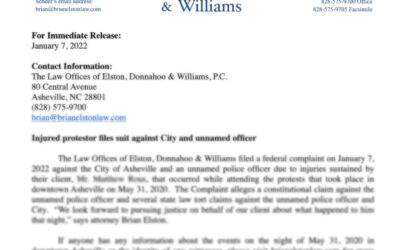 By BRIAN ELSTONFor Immediate Release: January 7, 2022 Contact Information: The Law Offices of Elston, Donnahoo& Williams, P.C. 80 Central AvenueAsheville, NC 28801(828) 575-9700Injured protestor files suit against City and unnamed officer The Law Offices of...
read more