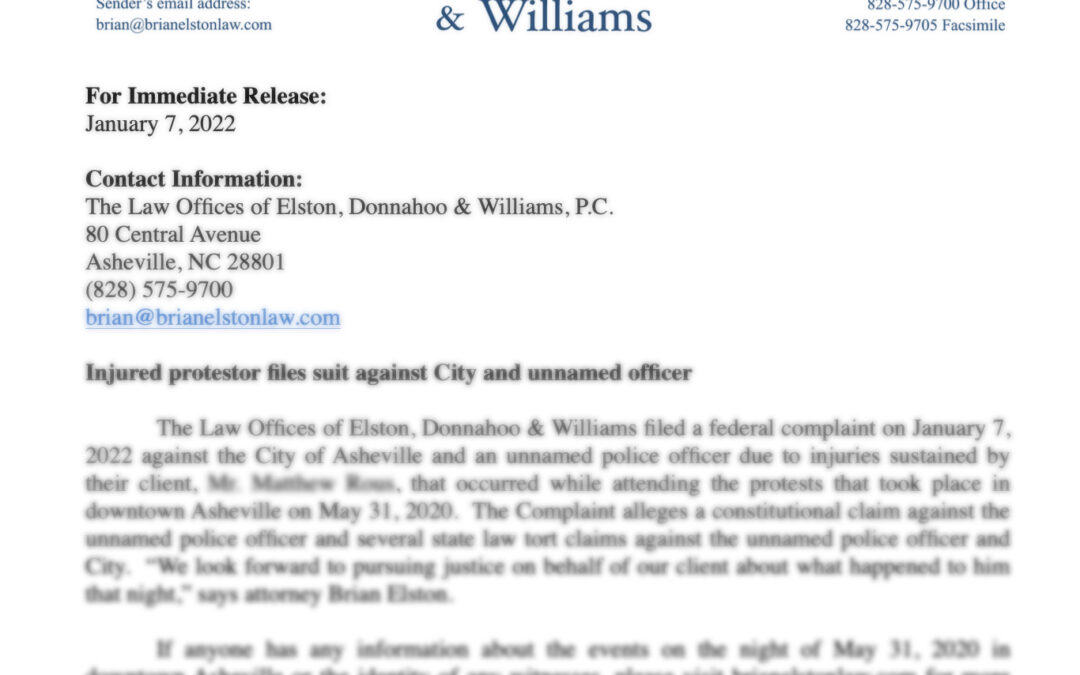 Injured protestor files suit against City and unnamed officer – Press Release
For Immediate Release:
January 7, 2022
Contact Information:
The Law Offices of Elston, Donnahoo
& Williams, P.C.
80 Central Avenue
Asheville, NC 28801
(828) 575-9700
Injured protestor files suit against City and unnamed officer
The Law Offices of Elston, Donnahoo & Williams filed a federal complaint on January 7, 2022 against the City of Asheville and an unnamed police officer due to injuries sustained by their client that occurred while attending the protests that took place in downtown Asheville on May 31, 2020. The Complaint alleges a constitutional claim against the unnamed police officer and several state law tort claims against the unnamed police officer and City. "We look forward to pursuing justice on behalf of our client about what happened to him that night," says attorney Brian Elston.
Information related to this case appeared in an Asheville Citizen Times article on January 11, 2022. A subscription may be needed to view the article.
If anyone has any information about the events on the night of May 31, 2020 in downtown Asheville or the identity of any witnesses, please call us at 828-575-9700 or fill out this form.
About The Law Offices of Elston, Donnahoo and Williams:
The Law Offices of Elston, Donnahoo & Williams represent victims arising out of personal injuries, workplace injuries, wrongful death, motor vehicle accidents and civil rights. "Our drive is to provide trusted answers, explain client's rights and achieve the maximum amount of justice under the law," says Brian Elston. To learn more about what our Firm can do for you, just give us a call or a text (Tel. 828.575.9700). If you would like to learn more about our Firm and how we can assist with your case, we encourage you to contact us. Let's talk.