Big Announcement – Brian Elston Law New Location and Name Change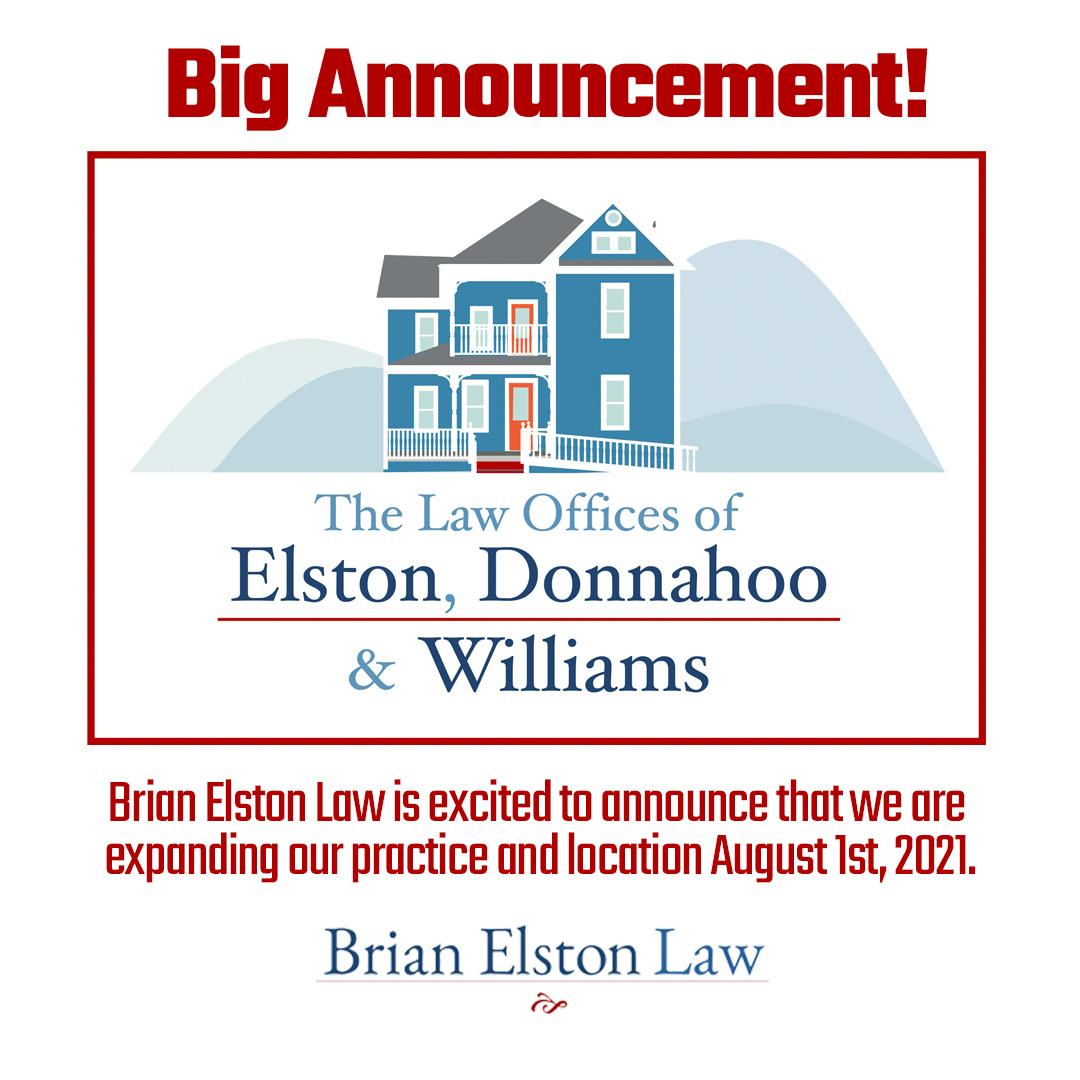 Brian Elston Law is moving to a new location at 80 Central Avenue, Asheville, NC 28801, and updating our name to The Law Offices of Elston, Donnahoo, and Williams, P.C, effective August 1, 2021.
The new location allows us to better serve Asheville, Arden, Hendersonville, and throughout Western North Carolina, and the updated name reflects the trusted attorneys clients can count on to help them in their personal injury and workers' compensation matters.  
New Location and a familiar seat
Several years ago, Brian Elston, then a young attorney, sat across from Steve Aceto who is a well-established, respected attorney. Brian was just beginning his legal career as a personal injury attorney and workers' compensation lawyer and was seeking advice on how Steve got to be where he was. Steve, in complete humility, took no credit, and said that anything he has ever received is a blessing from Above.
Over the next years, Brian formed his own firm, Brian Elston Law, and set out to serve the injured and has had plenty of help along the way. Mr. Jay Kerr, an established personal injury attorney, made some room and allowed space for Brian to hang his shingle. The young firm grew, and thanks to Mr. Jim Siemens, the practice began to flourish when he moved to the Patton Parker House.
Mr. Reed Williams, a personal injury lawyer with over 30 years experience, has served as a mentor and trusted colleague for Brian. In March 2019, long time-friend and established attorney Chad Donnahoo joined the firm to help out clients.
In the Spring of 2021, as the world began to venture from out of the pandemic, Steve Aceto listed his office for sale and announced that he was retiring. Brian reached out, and Steve, staying true to form, passed on his blessings. It is truly providential that the young attorney who sought Steve's advice that many years ago will now be sitting in his seat.
The Law Offices of Elston, Donnahoo, and Williams, P.C.
"We are all in this together" was not only the saying for 2020 during the pandemic, but also what it took to get out of it. It is with extreme gratitude and humility that Brian Elston Law announces that on August 1, 2021, the firm will be The Law Office of Elston, Donnahoo & Williams, P.C.  The name change reflects the attorneys that clients have and can continue to count on in their personal injury and workers' compensation claims.  The firm will continue its service of being personal injury attorneys and workers' compensation lawyers. In addition, the firm will also continue represent employees in disputes and also civil rights matters.
The new address for The Law Offices of Elston, Donnahoo, and Williams, P.C. starting August 1st, 2021, is:
The Law Offices of Elston, Donnahoo, and Williams, P.C.
80 Central Avenue
Asheville, NC 28801
828-575-9700
brianelstonlaw.com