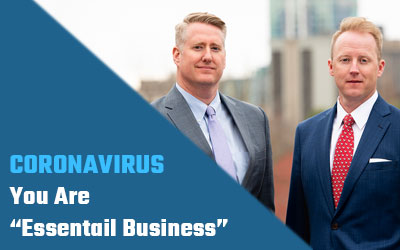 You are "Essential Business."
COVID-19 INFORMATION

Today, Buncombe County Government issued a "Stay Home – Stay Safe" order. A copy of the order can be found here.
The order provides that "Exceptional Businesses" may remain open, and the order defines those businesses. All business may maintain "minimum basic operations."
Brian Elston Law was designed to be there for our clients, no matter the circumstances. As the founder of the firm, I am grateful to share that we are still available even during times of crisis. Our firm has systems set up where operations can continue, and that our primary goal of being there for clients is being met.
"At their best, lawyers assure the availability of legal services to all, regardless of ability to pay, and as leaders of their communities, states, and nation, lawyers use their education and experience to improve society."

-Preamble to the NC Rules of Professional Conduct"
We will get through this time together, and we are here to do our part.
If you have a pending legal matter, and need assistance give us a call. Examples of pending legal matters that we handle are:
Should I apply for unemployment if I am receiving workers' comp benefits?
How will this crisis affect my workers' comp. benefits?
How will COVID-19 affect my motor vehicle accident claim?
What happens if I do not receive my workers' comp check?
Can I still count lost wages in my personal injury claim during this time?
and others…..
Feel free to contact us if you have any questions. We are there for you.
Brian Elston »
Chad Donnahoo »
Jenna Jarrett »
Reed Williams »